Lauren Goodger
On the 29
th
of April I attended the INNA Scottish Hair and Beauty Awards bloggers event, which was held at the rather swanky Apartment 29 in Glasgow.
It was my first ever event and I met up with the lovely Chloe, Gillian and Iona beforehand. The event was held to tell us all about INAA (I Need An Appointment) and give us an idea of who the finalists of this year's SHABA's could be. The evening started with us being greeted with long vodka cocktails and canapés and the founders of INAA Jo and Ruthanne telling us all about how they got started by realising there was no sort of online booking system for salons. They also told us that up to 45% of us Scottish Women don't like to spend money treating ourselves in Salons!
After this Lauren Goodger former TOWIE star spoke to us about Lauren's way and how much she loves Glasgow before we headed through to the Apartment area with all the sponsors of the event. They included Bumble and Bumble doing some lovely hair dos, Laurens way demonstrating tans, Bare Minerals doing makeup
and GHD showing some new products.
The lovely Chloe having her tan done
Me and Lauren




Bumble and Bumble
Bare Minerals, I have fallen in love with this Eye quad!
Having a little natter at Bare Minerals
GHD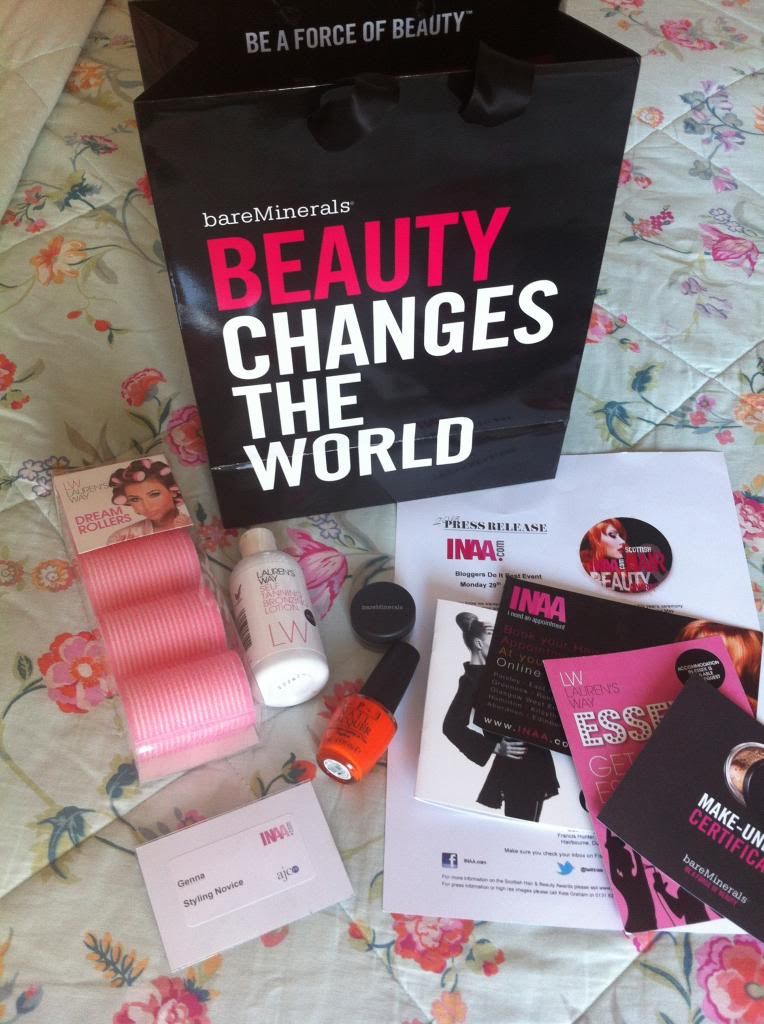 We were also all given an amazing goody bag which contained some Lauren's way dream rollers and tan, a lovey OPI nailpolish and a Bare Minerals eyeshadow! It was a really good night and I enjoyed meeting a lot of really lovely bloggers, so if you want to have a wee read at their blogs as well here are some of the lovelies I was chatting away to. Also if you'd like to know who this years finalists are just click
here
Thanks to INNA and AJCPR for throwing an amazing event I hope there are more to come!
Chloe of
Chloabelle
Gillian of
Wee Gillie
Iona of
Iona Blogs
Melissa of
Pretty Little Obsessions
Rebekah of
Its a Kind of Lovely
Carlyn of
Smoking Peaches
Linsay of
Pandora's Basket
Andrew of
Andrew James Makeup
Lori of
Glasgow Beauty Blog